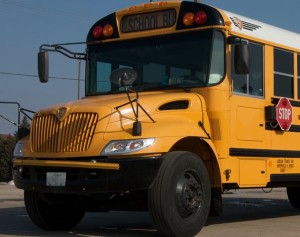 As a member of the Salt Lake City School Board, I want to say that I am so sorry to hear about the incident that occurred on the Emerson Elementary school bus two days ago. I want to extend my apologies for the district's reaction and inaction following the incident. I also find it hard to believe that the district spokesman says that the injuries sustained by the students "injuries are not to severe".
I was contacted about this incident by several (understandably) upset parents. KUTV News here in Salt Lake City ran the following story last night:
There are several issues about this incident that I find troubling. One of the mother's of a student that was injured on the bus posted the following comment in an earlier KUTV news report:
Students Burned By Ruptured Coolant Pipe
"More than two students were burned. Maybe only two required medical attention but it's unacceptable to downplay the incident. The pipe ruptured while they were on the freeway - children were hurt, children were scared, children were screaming. My daughter did need medical attention. I received a call wanting to know if they should put her in an ambulance or on a replacement bus. I picked her up since I was only minutes away. She has second degree burns on her feet and first degree burns on her legs. Her feet and legs are bandaged up, she cannot wear shoes, and is unable to enjoy the start of her summer. Did anyone at the district have time to call and see how my daughter is doing? No. Did they return my call requesting insurance information to cover her medical bills? No. But they do have time to go on the news and talk about their maintenance schedule. They don't accept responsibility. They don't apologize to the kids. This kind of indifference is what keeps ambulance chasing lawyers in business."
I agree with all the points made by Ms. Jensen. In this blog entry, I want to specifically address this statement:
"No. But they do have time to go on the news and talk about their maintenance schedule."
In my opinion, It doesn't matter how many times it's inspected, making sure that it is in good repair doesn't negate the fact that failure of a coolant hose causes hot antifreeze to spray into the passenger compartment injuring school children.
It is clear to me that there is a design flaw and we should do all in our power to mitigate this oversight.
In the short term, I have asked our superintendent to have our transportation department explore ways that our buses can be modified by installing some type of shielding, panel, seal etc… that creates a clear barrier between the student passengers and the engine compartment.  
Sadly, this appears to be a common occurrence across the country. In addition to the corrective action we take on the local level, I believe there needs to be a national movement to correct this defect and ensure that school buses are mass-produced in such a way that our students are protected from this type of manufacturing defects.
To do nothing would be careless and irresponsible. Here are reports of a few recent examples from across the country:
Wrong Part at Issue in School Buses Across Florida (St. Petersburg, Florida) – May 22, 2014
"The state is now requiring Florida Transportation Services, Inc. to bring the hundreds of buses with non-compliant hoses into line with its specifications. The company must extend its warranty on the buses for another year or offer the affected school districts an opportunity to have the hoses repaired."
Two Buses, Two Hoses, Two Malfunctions, Same Problem; School District Pulls Similar Buses from Fleet (Natrona County, Wyoming) – May 8, 2014
"Two Natrona County School District buses suffered the same kind of mechanical malfunction within two hours of each other today… The district and its mechanics are working with the Casper Fire Department and the manufacture to determine and resolve the problems, he said."
Kids Sprayed With Scalding Hot Fluid on Anne Arundel County School Bus (Edgewater, Maryland) September 13, 2013
"Four Central Elementary School students were hurt – including one who suffered first- and second-degree burns – after an engine hose burst on a school bus Thursday afternoon."
Hose Leaks on School Bus, Sending Students to Hospital (Greenville, North Carolina) – May 20, 2013
"The bus, carrying 38 students, was heading to Hope Middle School in Greenville at about 7:45 a.m., when steam began coming from the bottom of the vehicle…"
District: School Bus driver Should've Stopped While Antifreeze Leaked (Gresham, Oregon) – October 18, 2013
"The driver of a school bus with children onboard was wrong not to stop the bus when antifreeze began leaking in that bus Wednesday morning, according to the Gresham-Barlow School District. The antifreeze burned the children and released strong vapors. The driver kept driving instead of pulling over and doing an emergency evacuation of the bus. The engine is in the back of the bus."
Medics Evaluate Students after Antifreeze Line Ruptures Inside School Bus (Pendleton, Indiana) – November 15, 2013
Several Pendleton elementary school students were checked out by medics and one girl was transported to the hospital after a coolant hose ruptured inside their school bus Friday morning.
Hot Steam, Liquid Burns Students' Feet on Wake School Bus (Knightdale, North Carolina) – May 6, 2012
"An equipment malfunction caused hot steam and liquid to spew into the passenger cab of a Wake County school bus in Knightdale Wednesday afternoon, burning the feet of more than a dozen children."