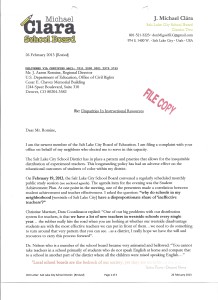 TEXT OF ENTIRE LETTER:
26 February 2013
DELIVERED VIA CERTIFIED MAIL: 7011 2000 0001 2979 3769
Mr. J. Aaron Romine, Regional Director
U.S. Department of Education, Office of Civil Rights
Cesar E. Chavez Memorial Building
1244 Speer Boulevard, Suite 310
Denver, CO 80204-3582
Re: Disparities In Instructional Resources
 Dear Mr. Romine,
I am the newest member of the Salt Lake City Board of Education. I am filing a complaint with your office on behalf of my neighbors who elected me to serve in this capacity.
The Salt Lake City School District has in place a pattern and practice that allows for the inequitable distribution of experienced teachers. This longstanding policy has had an adverse effect on the educational outcomes of students of color within my district.
On February 19, 2013, the Salt Lake City School Board convened a regularly scheduled monthly public study session (see enclosed agenda). The agenda item for the evening was the Student Achievement Plan. At one point in the meeting, one of the presenters made a correlation between student achievement and teacher effectiveness. I asked the question: "why do schools in my neighborhood [westside of Salt Lake City] have a disproportionate share of 'ineffective teachers'?"
Christine Marriott, Data Coordinator replied: "One of our big problems with our distribution system for teachers, is that we have a lot of new teachers in westside schools every single year… the rubber really hits the road when you are looking at whether our westside disadvantage students are with the most effective teachers we can put in front of them…we need to do something to turn around that very pattern that you can see…as a district, I really hope we have the will and resources to carry this process forward".
Dr. Nelson who is a member of the school board became very animated and bellowed: "You cannot take teachers in a school primarily of students who do not speak English at home and compare that to a school in another part of the district where all the children were raised speaking English…"
The board vice president did not want to discuss the issue and wanted the presenters to move on.
The superintendent gave an explanation as to why the current data was "not complete" and then declared: "this presentation is about student achievement not teacher evaluations", prompting the presenters to leave the subject of teacher effectiveness.
Before moving on, I voiced the concept that "student achievement" was inexplicitly tied to the "quality of instruction" (refer to audio on district web page).
Current data reveals that as high as 67% of the teachers in one westside school are classified as "ineffective" compared to an eastside school with 0% of the teachers being classified as "ineffective" (within a subject). This trend is consistent when comparing these numbers between westside and eastside schools in our district. These teacher classifications are based on the district's student growth model (see-enclosed data).
On February 20, 2013, I sent a letter to our school board president, requesting that the issue of "Equitable Distribution of Experienced Teachers" be placed on an upcoming school board agenda (see enclosed letter).
On February 24, 2013, The school board president replied stating that she would not place the issue on the agenda because it would require "such a rapid realignment of agenda priorities". She also stated, "We are sorry you feel we have not given appropriate weight to your immediate concerns." The board president, vice president and the superintendent have previously demonstrated a level of insensitivity towards issues that are facing my community. Therefore, the board president's refusal to honor my request was anticipated.
Because of the school board president's failure to act and in conjunction with the insolent comments and attitude that were displayed at the February 19, board meeting, I am compelled to file this complaint with your office.
I believe that experience levels of teachers are crucial given their daily contact with students in the classroom. Although many factors combine to make a successful school, current research confirms that quality teachers are among the most important requirements for success, especially when success is defined by the ability of the school to raise the achievement of its students.
The issues I have raised in this complaint are imperative for two reasons:
First, it relates directly to questions of social justice interpreted as equal educational opportunity.
Second, it bears on the operation of school-based accountability systems designed to put pressure on school personnel to improve student achievement.  
Equal educational opportunity requires that the quality of schooling provided to students be similar across schools. In particular, it would require that students in high poverty schools have access to teachers and principals of similar quality to those in schools serving more advantaged students.
The Salt Lake City School District's current policy concedes that the schools serving disadvantaged students would need to have more –or higher quality—resources than the other schools to compensate for the educational disadvantages that children from disadvantaged families typically bring to the classroom (see 2010-2015 Student Achievement Plan: Equity and Advocacy).
In the Salt Lake City School District, the highest concentration of the least experienced teachers are employed in the schools with the highest number of students of color, which is on the city's westside.
Westside schools also face the highest rate of teacher turnover in comparison to that of eastside schools.
Current data also suggest that the combination of inexperienced teachers and high teacher turnover in the city's westside schools has existed for many years.
Disparities also appear in the funds allocated for teacher salaries. This is because the district's practice is to allocate to each school whatever funds are necessary to pay the teachers in each school. Since, on average, the teachers at schools with higher numbers of white students are more experienced, the amounts spent on teacher salaries in eastside schools are greater. By contrast, in schools with the greater number of students of color, less money is allocated for teacher salaries.
These disparities result in large part from the district's current teacher assignment system. The effect of this system is that, over time, inexperienced teachers are allowed to amass in westside schools at the expense of student achievement.
On February 2, 2013, The Equity and Excellence Commission delivered their report to the U. S. Secretary of Education. The report is titled: For Each And Every Child, A Strategy For Education Equity And Excellence. On page 25, the report states the following:
"…accountability should be transparency and progress toward the equitable distribution of highly effective, well-qualified teachers across districts and schools as a condition of federal funding. Implementation must be thoughtful and result in retaining great teachers in the schools and subjects where they are most needed…"
They go on to state that districts should:
"Encourage effective teachers to teach in high-need schools and communities with incentives and critical improvements in working conditions, and reverse the disincentives to take on the biggest educational challenges facing the neediest children…"
And:
"Take all necessary measures to distribute highly effective teachers so that each student can get the help he or she needs to succeed. These measures should include pay incentives, targeted professional development and better working conditions and support in schools with the most need, and federal and state accountability and data-reporting systems to ensure that states and districts develop sustainable systems to close the teacher-quality gap."
By maintaining the current teacher distribution system in its present form, and refusing to discuss it on the school board level, I contend, the district is in violation of Title VI of the Civil Rights Act of 1964 and implementing regulations.
Title VI, 42 USC § 2000d, provides:
No person in the United States shall, on the ground of race, color, or national origin, be excluded from participation in, be denied the benefits of, or be subjected to discrimination under any program or activity receiving Federal financial assistance.
Implementing regulations, 34 CFR § 104.4, state:
(1)   A recipient under any program to which this part applies may not, directly or through contractual or other arrangements, on ground of race, color, or national origin:
(i) Deny an individual any service, financial aid, or other benefit provided under the   program;
(ii) Provide any service, financial aid, or other benefit to an individual which is different, or is provided in a different manner, from that provided to others under the program;…
(iv) Restrict an individual in any way in the enjoyment of any advantage or privilege enjoyed by others receiving any service, financial aid, or other benefit under the program;…
(vi) Deny an individual an opportunity to participate in the program through the provision of services or otherwise or afford him an opportunity to do so which is different from that afforded others under the program….
(2) A recipient, in determining the types of services, financial aid, or other benefits, or facilities which will be  provided  under any  such program, or the class of individuals to whom, or the situations in which, such services, financial aid, other benefits, or facilities will  be provided under any such program, or the class of individuals to be afforded an opportunity to participate in any such program, may not, directly or through contractual or other arrangements, utilize criteria or methods of administration which have the effect of subjecting individuals to discrimination because of their race, color, or national origin, or have the effect of defeating or substantially impairing accomplishment of the objectives of the program as respect individuals of a particular race, color, or national origin….
(6)(i) In administering a program regarding which the recipient has previously discriminated against persons on the ground of race, color, or national origin, the recipient must take affirmative action to overcome the effects of prior discrimination….
I affirm, that Title VI and implementing regulations prohibit the Salt Lake City School District from denying any service or benefit to students on the basis of race, color, or national origin; providing these students with services or benefits that are different from those provided to others; or restricting these students in their enjoyment of any advantages made available to other students. 
In conclusion, I echo the sentiments of former Secretary of State Condoleezza Rice: "Let me ask you, though, today, when I can look at your zip code and can tell whether you are going to get a good education -– can I really say that it doesn't matter where you came from, it matters where you are going? The crisis in K-12 education is a grave threat to who we are… This is the civil rights struggle of our day".
Over the years, the superintendent and my predecessors have produced and sustained a caste system of public education that allocates educational opportunity based on wealth and privilege, rather than on student or community needs.
When brought to their attention, they refused to put in place a system-wide mandate to "close the teacher quality gap" that exist within our district. Rather, they chose to reinforce the bureaucracy that allows students of color to continually be assigned chronically inexperience teachers.
The simple truth is, the Salt Lake City School District cannot fulfill its mission if students growing up in poverty and students of color continue to be disproportionately taught by inexperienced, teachers.
These manifestly unequal opportunities make a mockery of our school board's stated commitment to equal opportunity and rob our children of their very futures.
Consequently, I submit these allegations for your review, consideration, and enforcement.
Shalom,
J. Michael Clára
Board Member
District 2
cc: Open Letter
Enclosures: School Board Agenda: 19 February 2013
Salt Lake City School District, Teacher Effectiveness Data
Salt Lake City School District 2010-2015 Achievement Plan
Letter to Board President: Disparities in Teacher Staffing