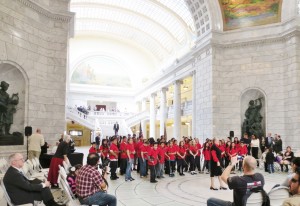 Spending the lunch hour to the wonderful sounds of Jackson Elementary School violinists in the capitol rotunda.
USING THE POWER OF MUSIC!
Jackson Elementary provides music instruction in grades K-6. Instrumental music is a part of students' educational experience. Students in grades K-2 begin their musical journey by playing rhythm and tone instruments. Jackson students are first introduced to violin instruction in the third grade and continue to refine their skill in grades 4-6. Jackson's music program provides every child with an opportunity to experience the joy of music.
The music program at Jackson is led by two exemplary music educators—Mrs. Carol Shorten and Ms. Trish Wade. The music program at Jackson Elementary is currently funded through The Beverly Taylor Sorenson Elementary Arts in Education Grant, in conjunction with Art Works for Kids.