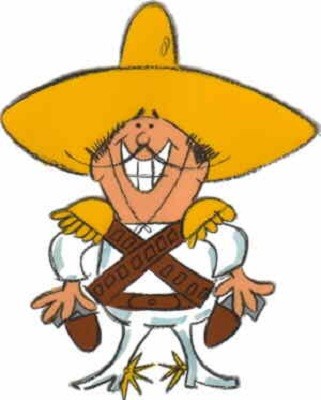 26 February 2015
Delivered Via USPS
Ms. Heather Bennett, Board President
℅ Salt Lake City Board of Education
440 East 100 South
Salt Lake City, Utah 84111
                                      Re: Frito Bandito Incarnate   

Dear President Bennett,
As we were adjourning last week's Board of Education meeting, you distributed yet another letter, attempting to demonize me (third one of 2015) and in this instance, accused me of "assaulting" you.[1]
Additionally, it was brought to my attention that Superintendent Withers, in his cowardly fashion, has repeated your claims in various school district meetings with administrators. Your actions in conjunction with those of the superintendent, invite a response from me. I am most troubled by the last two sentences of your letter because I believe that the accusations you hurled at me is but a reflection of a larger problem facing our school district. Specifically you stated:
"Unfortunately, Mr. Clara was so overcome with anger that he assaulted me with threats, profanities, and scatological references, loudly enough for my husband and daughter to overhear…Because Mr. Clara's telephone behavior was so extreme, I asked the Superintendent to request that our resource officer, Gary Trost, come to the front of our boardroom on 3 February as a safety precaution." [2]
Framing our phone conversation in this fashion, is in my opinion, nothing more than a demonstration of your collusion with the superintendent's determinations to dissuade discussion (causes and solutions) about the low educational outcomes facing students in my community.
The order of the day is to sidestep any of the community concerns I bring to the Board table. During my first two years of service on the Board, I have observed Superintendent Wither's masterful command of illusive and deflecting tactics. It is clear that you have chosen to reach into his bag of tricks and employ the tactic of tagging me as the villain; you and Superintendent Withers would have people believe that I am the Frito Bandito incarnate.
PHONE CALL
As to our phone conversation referenced in your letter,[3] I do want to apologize for the volume of my voice. Due to a hearing loss, I often speak louder than needed under normal circumstances. When you called me, I was at the train station waiting to board the Frontrunner and it was difficult to hear you with heavy rail, light rail, buses and people passing by. I have no doubt that on your end, it sounded like I was yelling.
I acknowledge that my tone would not have been the most pleasant as we were discussing the motives behind the letter [4] you and Kristi Swett wrote in an effort to demonize me in the eyes of the teachers. I must confess, that I found no comfort in your expressed motives. Your explanation in that conversation was even more insulting than your letter as already stated in my response.[5]
As to the "assault by threats", you and I both know that I never threatened to cause you physical injury or bodily harm, nor did I make any implications along those lines.
While living in Salt Lake City over the past two decades, I have been involved in helping to shape public policy through various forums ranging from the local school community council all the way up to the United States Congress and most public forums in between. I have never been accused of threatening to cause bodily harm to anyone as a result of a disagreement on public policy.
POLICE PROTECTION
I find it curious that you did not require police protection for the closed session of the Board meeting held prior to the public session when the police officer actually arrived; nor did you require police protection at the Sterling Scholar banquet held that same week, of which you and I were the only two board members in attendance. In fact, you approached me and greeted me and spoke to me making no mention or giving me any indication that you were in fear of my attacking you. The following week, you did not require police protection at the equity leadership committee that you and I both serve on. Even at the last Board meeting, when I asked why the police officer was stationed in front of the room, you made no mention of your fear that I may attack you.
I am having difficulty following the logic of your explanation and actions as they relate to the posting of an armed police officer in the Board room.
At first glance, I dismissed your reaction as nothing more than a page out of the school administration's playbook, that of criminalizing the dissent of parents [6] and board [7] members alike.
Now that your letter has been published as part of the Board's proceedings, I have received several phone calls from school district patrons asking me to expand on its contents.
Some members of the community point to your stated accusations and as confirmation of the Education Matters Committee [8] description of your style of leadership. You will recall that they stated you had "a long history of dishonesty and regularly break[ing] ethics [you have] sworn to uphold".  They go on to describe you as one who "…does [not] treat fellow board members with respect and consideration, through civil discourse, and does not exhibit honesty and decorum when the group agrees or disagrees on issues". 
ETHNIC MINORITY STEREOTYPES
Upon further reflection and following several discussions with members of the community, I have concluded that your actions could in part, be the result of your belief that as a person of color, I do not have the same standing as do my fellow board members, who like you, are all Caucasian. As Rodolfo Acuña puts it, "suffering from historical amnesia…many continue to view Latinos as foreigners." [9]
Or, does your reaction boil down to an issue of what educators call "cultural competence". Is it possible that you have misinterpreted my (repeated) expressed outrage at a 52% dropout rate of Hispanic students within the Salt Lake City School District? Anna Castillo puts it this way: "…when people of color show their indignation and express intolerance of racism, some white intellectuals accuse us of being 'too angry'. Should we ask first 'what is anger-appropriate' so as not to offend anyone by expressing our indication and pain?" [10]
I am reminded of an experience shared by John Florez; he relates that when he applied to fill a vacancy on the State Board of Education he received a letter of rejection that in part reads as follows: "As you know, the Board is comprised of 15 qualified individuals who must work together, and in a united effort … The nominating committee perceives that your domineering style might challenge the logistics and operational effectiveness of the State School Board." [11]  Sound familiar?
MOVING FORWARD
Instead of falling back on racial stereotypes, instead of criminalizing public dissent…I recommend that we reach out to someone in the community or professionals that can facilitate a conversation among Board members; in our current state, we are dysfunctional. I can assure you that mischaracterizing my actions as a pretext to police intimidation will not detour me from representing the concerns of my community nor will dampen my oppositional voice.
Shalom,
J. Michael Clára
Board Member, District 2
 P.S.
"Our work and words against racism are accused of being nothing more than litanies of hatred by those who don't realize, or refuse to see, the extent to which racism continues to effect U.S. people of color. By denying our right to express the ostracism –or not accepting our claims to the degree to which we are ostracized- that we experience in white society, they inadvertently contribute to it"
Massacre of the Dreamers by Ana Castillo
Enclosures 
cc: Mayor Becker
Chief Burbank
SLTA Representatives
School Administrators
Board of Education
---