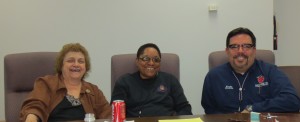 Elaine Tzourtzouklis, Executive Director &                                                                                             Susan McFarland, President
Met with SLTA Leadership today.
SLTA is the professional organization for teachers in the Salt Lake City School District focused on improving public education while serving as an advocate for teachers and students. We are classroom teachers, special education professionals, extended learning program teachers, speech pathologists, music teachers, librarians/media specialist, certified teachers on district assignments, coaches, counselors/social workers and interns.