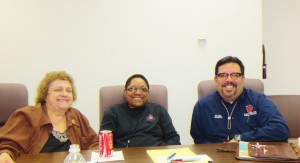 Elaine Tzourtzouklis & Susan McFarland with Michael Clara                                       following our Monday meeting on February 25, 2013.
I had meeting with the SLTA leadership on Monday at my request. The meeting lasted over an hour wherein I explained why I was filing a complaint with the Office of Civil Rights. The picture above was taken at the conclusion of the meeting.
A few days later they sent out an email to all of their members mis-characterizing my words and actions.
According to reports I have received from several teachers, the superintendent made disparaging remarks about me at the opening of the teacher development training at East High on Friday in an effort to incite the teachers.
Several teachers informed me today, that the SLTA leadership is organizing teachers to show up at the Tuesday, March 5th, school board meeting to condemn 'Michael Clara'.
So, in stead of working on the problem of low student achievement in west side schools, the response is to attack the messenger?
TEXT OF EMAIL THAT SLTA LEADERSHIP                                                          SENT TO ALL THEIR MEMBERS ON FRIDAY:
Education Excellence is Everyone's Responsibility!
________________________________
Attention SLTA Members,
This email is to inform all of our members that the SLTA does not support the comments made by Michael Clara, Salt Lake District Board member, in the February 27 Salt Lake Tribune article.  Yes, we supported his candidacy for Board member because of his commitment to make Shared Governance a priority in the District.  Under no circumstances do we support his negative comments about our teachers in the Salt Lake City School District.  Furthermore, we strongly object to his comment that 69% of teachers on the west side are not effective.  Your SLTA Leadership believes Mr. Clara's ineffective claims are based on reports that are both outdated and solely tied to CRT scores.   These scores do not reflect real growth because teachers use the Common Core Curriculum but students are tested on the CRT's which do not align with the Common Core.  The CRT scores reflect the proficiency levels of the student on that one test.  The true effectiveness of a teacher has more than one component.
We strongly oppose and reject his idea of a mandatory transfer of teachers in our schools.  SLTA will always support with great pride our teachers and the work they do for all of our students in our district.  Furthermore, we will fight to preserve the integrity our teachers have in the work they do.
Thanks for all you do for our students and the Association!
Susan McFarland,  SLTA President                                                                          Elaine Tzourtzouklis, SLTA Executive Director