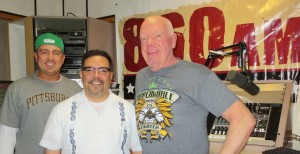 Had a great time this morning with Representative Greg Hughes                                            and Senator Howard Stephenson.
I was a guest on the conservative RED MEAT RADIO  this morning, discussing how the dysfunction on the school district level is negatively impacting west side schools. I'll post the podcast later this week.
It airs every Saturday morning from 8:00 a.m. to 10:00 a.m.                                          on 860 AM and is produced by Chase Everton
Mission Statement:                                                                                                       Without Red Meat Radio the political discourse in Utah would be comparable to vegan tofu cuisine. Frequent guests on the program include national, state & local political leaders and respectable members of the local media. Red Meat Radio first aired in September of 2008 and has since provided our friends in the media with political content for their newspapers and television broadcasts.