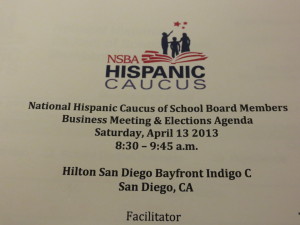 In 2006, The National School Boards Association's Board of Directors established the National Hispanic Caucus of School Board Members as a Council of NSBA to serve as a leader and advocate on issues of achievement for Latino children.
The mission of the National Hispanic Caucus of School Board Members (NHC) is to promote the goals and vision of the National School Boards Association (NSBA) and to provide leadership and a foundation to school board members for student educational opportunities through collaboration with key stakeholders to foster excellence and equity in public education.  The Hispanic Caucus continues to be involved in legislative initiatives ranging from literacy rates to standardized tests, and education leadership issues from professional development to effective governance.
Most noteworthy is the NSBA National Hispanic Caucus of School Board Members' Statement of Goals, which guides the organization's programmatic agenda:
Promote and advance equal education opportunities for Hispanic children by Caucus members becoming actively engaged in national dialogue on education problems, issues and concerns in conjunction with the National School Boards Association and other national organizations committed to the continued growth and development of minority children.
Promote state and national legislation to improve educational opportunities and programs for the Hispanic students in the public schools.
Provide education and information to members and/or interested parties on unique challenges and opportunities faced by school board members throughout the country.
Provide leadership by encouraging the most desirable and effective communication between school board members, their local school board, communities, national and state board associations relating to Hispanic students.
Study the development, academic achievement of the Hispanic youth within public schools.