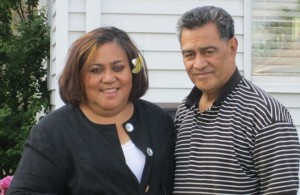 We are honored to present the name of Michael Clara for your consideration as you cast your vote for a School Board representative. Michael is always working to make our community a better place to live.
Recently, we had two different neighbors lose a child through tragic circumstances. One child was killed in an auto-pedestrian accident. The other family lost a child who was a victim of a shooting. Neither of these families had the means to pay the funeral expenses. It was Michael Clara who organized the neighborhood and raised the needed funds to help both of these families bury their children with dignity. It didn't matter to Michael that neither of these families were members his own faith, he saw a neighbor in need and went to work.
Another neighbor lost their son while he was serving an LDS Mission. Michael organized a local Boy Scout troop and they erected a flag pole with a large plague in honor of this missionary. When yet another family in our community lost their son in the Iraq war, it was Michael Clara who spearheaded the effort to rename 300 S. in honor of the Marine Adam Galvez, who grew up on the westside.
Michael has demonstrated over and over again, that we are to love and care for our neighbors regardless of their religion, skin color or political affiliation.
Michael Clara has earned our vote because he brings honor to our community. You should honor him with your vote on Tuesday, November 6, 2012.