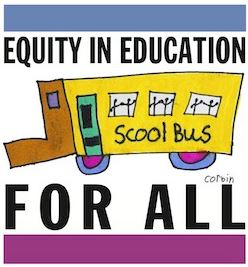 3 December 2015
DELIVERED VIA ELECTRONIC MAIL
The Honorable Leslie B. Castle
℅ Utah State Board of Education
2465 St. Mary's Drive
Salt Lake City, UT 84108
Re: Coalition of Minorities Advisory Committee (CMAC)
Dear Board Member Castle,
I am writing to urge you to reject the current proposal [1] to dissolve CMAC. The demographic trends for our State cry out for an "advisory group to provide information and to consult with USBE regarding educational needs and services for culturally and linguistically diverse students of Utah, with the goal of promoting student achievement." [2]
In reading the proposed resolution, it appears there is a philosophical shift to looking at students through the lens of 'risk factors' instead of 'race'. [3]  This is troubling, in that the educational trend towards "colored blindness" has an insidious effect because it becomes difficult to counter traditional forms of research, statistics, and legal procedures. By insisting on rhetoric (i.e. resolutions) that minimizes or disallows reference to race, groups effected by racism cannot then name their reality without invoking denial and offense.
I would surmise, that members of CMAC would challenge our schools' traditional claims towards objectivity, colorblindness, equal opportunity and race neutrality. In my observations, these claims are nothing more than camouflage for the self-interest, power, and privilege of the dominant group.
As you are aware, educational institutions operate in contradictory ways, with their potential to oppress and marginalize coexisting with their potential to emancipate and empower. We must however, recognize that multiple layers of oppression and discrimination will continue to be met with multiple forms of resistance. To that end, it is imperative that the Utah State Board of Education recognize that the experiential knowledge of those that serve on CMAC is legitimate, appropriate, and critical to understanding, analyzing, and teaching about racial subordination.
In fact, this collective knowledge must be viewed as a strength because it gives the Board the opportunity to draw explicitly on the lived experiences of "negative reference groups". [4]
"It is especially important that we lift the curtain of ignorance and denial that has protected us from understanding our location on the broader stage of hierarchal social arrangements. We need to see how the lives of our students have been scripted by their membership in groups differing in degrees of social dominance and marginality". [5]  This journey of understanding can only occur if the Board treasures and increases the influence of CMAC not "dissolve" it!
A decade ago, it was my honor to serve as the Chair of CMAC. Serving on that advisory committee was an incredible opportunity for me as many of the lessons learned during that period, guide my actions to this day. Many of the associations and friendships I formed at CMAC have only solidified over the years.
In closing, I share one such association. My first presentation to the Board took the form of a chastisement. Following my address, Board member John Pingree took me aside and impressed upon me the importance of striking a balance of velvet and steal when seeking social justice changes; he told me that no matter how right I am on an issue, my message will not only get lost, but will be dismissed if continue to use the tone and style that I had just exhibited. Some would argue that I did not take his advice to heart, yet I did. I was blessed with many such moments of mentoring from fellow CMAC members as well as those that served at USOE. I would encourage you to do all that you can to preserve the institution and influence of CMAC.
Shalom,
J. Michael Clára
Board Member, District 2
cc: Utah State Board of Education
Coalition of Minorities Advisory Committee (CMAC)
Educational Diversity: Utah Leadership Coalition
Salt Lake Chapter of the NAACP
Utah Coalition of La Raza

---