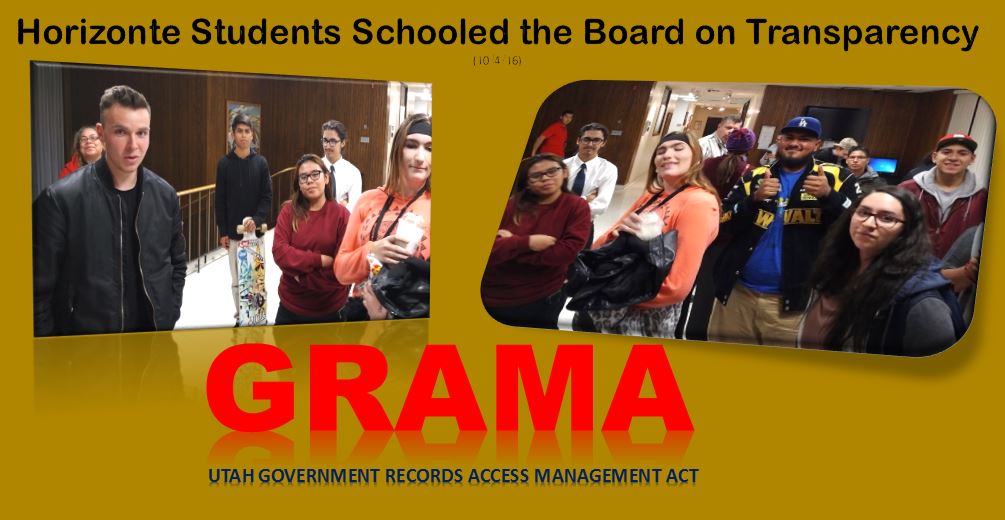 06 October 2016
DELIVERED VIA ELECTRONIC MAIL
Ms. Alexa Cunningham, Superintendent
℅ Salt Lake City School District
440 East 100 South
Salt Lake City, Utah 84111-1891
Re: Horizonte College Advisor
Dear Dr. Cunningham,
Acting under the authority of my elected office, and in my official capacity as a member of the Salt Lake City Board of Education, I submit the following request on behalf of the residents of Salt Lake City, District 2. [1] Pursuant to Government Records Access Management Act (GRAMA),[2] I am requesting a copy of all EMAILS that you, Janet Roberts, Larry Madden, Joshua Bell, Michael Williams, Jason Olsen and Heather Bennett have had between each other AND anyone else in reference to Kimball Young AND College Advisor AND Scholarship Advisor AND Horizonte, for the time period of July 1, 2016 to the present. Please recognize that any effort on your part to withhold information under the guise of a "protected document" [3] will be appealed by me and will be the subject of review by the State Records Committee. [4] For example, at our last Board meeting, Board President Bennett and Vice President Sandberg stated that this was a "personnel issue". That is not a true statement as I have seen nothing that even suggest that this is a "personnel issue". Moreover, based what you presented to the Board in the illegally held, closed door meeting in September, this is no "personnel issue".
I am, unfortunately forced to invoke GRAMA, in requesting this information due to your refusal to provide me with accurate and reliable information on what led to you illegally terminating the contract with Kimball Young, who was providing Horizonte Alternative High School with College Advisory Services.
Furthermore, I am now being informed by fellow Board members that you have re-instated Mr. Young as Horizonte's High School College Advisor. Really? Then why not apprise the Board member that initially asked you about this contract termination? Why not update the Board member, whose District has the highest concentration of students attending Horizonte? Why not keep all Board members equally appraised of this weighty matter?
MR. KIMBALL YOUNG
As one who has oversight responsibilities for this school district, I must confess that I am embarrassed and ashamed to have witnessed the manner in which you and members of your administration treated Mr. Young over the past three months. I had the honor to meet with Mr. Young about three weeks ago and found him to be dedicated to the cause of ensuring that each Horizonte student has a successful post secondary experience. Over the past three weeks, I have had the privilege of meeting with multiple current and former students of Horizonte that are and were the beneficiaries of Mr. Young's services. At our last Board meeting, you and those in attendance caught a glimpse of the gratitude that Horizonte students have for this man. [5]
As someone who professes that their actions are driven by the mantra: "Kids Come First",[6] I would have expected you to move heaven and earth in an effort to ensure that a man of Mr. Young's caliber is in front of our students at every opportunity. Instead, you acted contrary to the purpose and mission of this school district. [7]
Just four short months ago, I reluctantly voted in the affirmative to appoint you Superintendent over this District. [8] A District that you now acknowledge is in organizational turmoil, where no accurate organizational chart exist, there are no job descriptions for the administrators, there are no evaluations on file for administrators etc. Moreover, you have advised the Board that the administrative organization is so convoluted, you will need to hire an outside firm to perform an organizational audit in order for you to make sense of it all. Understanding that those problems exist, you can understand why it is baffling to me, educators, members of the community and other elected officials, that changing the manner in which Horizonte receives College Advisory Services is such an urgent matter for you. I would urge you to get in touch with what it happening in our schools or you can watch the videos where I interview students impacted by Mr. Young' work:
DISTRICT OFFICE
I hope that you now recognize the value of shared governance [9] and the importance of respecting site based decisions. In this instance, when you deviated from the approved course set by the School Improvement Council (SIC) [10] and approved by the Board, [11] you inadvertently or intentionally exacerbated the already deficient manner in which this District delivers its post secondary transitional services to Horizonte students. [12]
If anything, your involvement should have increased a Horizonte's student ability to have access a College Advisor, not decrease it. My advice to you, leave the schools alone and instead concentrate on fixing the problems within the dysfunctional district bureaucracy. It was anticipated that the arrival of a new Superintendent would help us build trust amongst each other and the community. [13] Your management style has deepened the level of mistrust among the employees, Board members, community and students.
The social demoralization within the District office is such that communicating the simplest information accurately is difficult even when no one is deliberately sabotaging the flow of information. A number of the decisions that I have seen come out of the District office are so irrational that there is no predictable relationship between what they decided and the ends that they had in sight. More specifically, administrators in the District office cannot even act in their own self-interest, even when they agree on what that is. I believe the District office has reached the 'normalization of incompetence' point.
BACKGROUND
On September 15, 2015 – I sent you an email, asking why was the contract with Mr. Young terminated? You replied with the following explanation:
 SEE WORD FORMAT FOR GRAPHIC
BOARD MEETINGS
On September 20, 2016 –The Board held its regularly scheduled meeting. A closed door session was convened under the guise of a "personnel issue". In prior email exchanges, you stated you would answer my questions about the cancellation of College Advisory services to Horizonte at the Board closed door meeting. Once the closed door meeting was under way, you and your attorney repeated what you stated in your September 15th email. As already indicated the meeting was illegal as no personnel were discussed. [14]
I am so disappointed to see that you are comfortable with a lack of participation and engagement on the part of the public. I would like to see residents participate in inclusive and responsive policy making. I am still trying to determine if you lied to me in your initial email on September 15th or if you and your administration are just so disconnected from the lives of teachers and students, uniformed about what is really going on in the school system. Rest assured that it is my intent to challenge your abuse of Utah Open and Public Meeting Act whenever it occurs. [15]
To allow you to dispense with transparency, is to allow this institution to perpetuate this persistent lack of urgency about improving itself. I cannot permit you or anyone else to be so committed to the status quo that we cannot then rid ourselves of this culture of complacency.
On October 4, 2016 – The Board held its regularly scheduled meeting where the dysfunctional District office was once again on full display. Although I asked for the issue of Horizonte's College Advisor to be placed on the agenda, it was not.[16] I am not at all impressed with your ability to consistently produce the framework that encourages the degradation of civic discourse and erodes the capacity for collective critical thinking in the Board room; at that same time it is apparent that you and Business Administrator Roberts have lost your capacity for even common decency as demonstrated when you had my microphone turned off while I was speaking to the Horizonte students during the Board recess. [17] What was the purpose of cutting off my microphone? The Board president called for a recess, the majority of the Board left the room.  Conversely, I chose to stay in the Board room and explain to the students how the components of local government functions. Why did that offend you to the point that you ordered the Business Administrator to cut off my microphone? That was just petty and I hope that in the two years that you are in Salt Lake City, you can develop better leadership skills.
The day following the Board meeting, I was at a community meeting. One of the pressing questions: "Why did the Superintendent tell them to cut off your microphone when you were speaking to the students?" I explained that from my perspective, it is a sign that you are very insecure in your new role as the Superintendent of the Salt Lake City School District. I also told them that it is a symptom of the District's institutional failure which creates a social environment that encourages yet more failure, one downward spiral generating another. I went on to explain that the demoralized social environment within the District creates an irrational organizational context where cultural, social, and material supports for teaching and student development are minimal. As you have so clearly demonstrated, even something that is currently working well is not safe. I then made the analogy that something good like a College Advisor at Horizonte, in a school district that operates in a severely damaged social infrastructure is tantamount to bringing a lighted candle into a wind tunnel. I pointed out that the questions that the Horizonte students and I were asking you, occurred in an atmosphere of ideological rigidity and smug contempt for elected officials. I also pointed out that the organizational characteristics that we ordinarily expect to contribute to efficiency are taken to such extremes as to do just the opposite, resulting in a school district that is dominated by over-centralization that only knows how to victimized anyone who comes in contact with it. Such was the experience of the Horizonte students. They came to the Board meeting expecting that their concerns were going to be accepted and addressed. They instead were exposed to a politicized system of command and control that rewards incompetence over what is best for students.
CONCLUSION
We have now come full circle and I am told that Mr. Young is back at Horizonte. I am nevertheless, deeply troubled by your response to me on September 15th, that we now know to be false. I am troubled that you countermanded an official act of the Board. I am concerned that you gave the Utah State Board of Education (USBE) the assurance that you would use $25,000.00 of Adult Education Funding for a College Advisor. What is the status of that funding? I am troubled by your persistent actions designed to clouding transparency in an effort to avoid accountability. I can assure you that your behavior on this issue falls way below the standards of the community that I was elected to represent.
Nevertheless, I am hopeful that the production of emails that I am requesting, will give us some insight into your motives and what it was you were hoping to accomplish by getting rid of Horizonte's College Advisor. Accordingly, GRAMA encourages agencies to fulfill a records request without charge.[18] Based on Utah Code §63g -2-203 (4a), I am requesting a waiver of copy costs because releasing the records primarily benefits the public rather than a person:
In enacting this chapter, the Legislature finds and declares that the state, its agencies and political subdivisions, exist to aid in the conduct of the people's business. It is the intent of the law that their actions be taken openly and that their deliberations be conducted openly [19]
Moreover, my "legal rights are directly implicated by the information in the record" [20] as I am an elected member of the Board of Education. [21] To that end, the late Speaker of the House, Becky Lockhart shepherded a bill that clarified the role of Board members, which is now in Utah Code:
 Notwithstanding a local school board's status as a body corporate, an elected member of a local school board serves and represents the residents of the local school board member's district, and that service and       representation may not be restricted or impaired by the local school board member's membership on, or obligations to, the local school board. [22]
Consequently, any attempt on your part to deny this request will be viewed as an act of "restricting and impairing" my ability to represent the residents who elected me to represent their interests. I recognize that you will respond to my request within 5 business days, as permitted by GRAMA. [23]
Shalom,
Michael Clara
J. Michael Clára
Board Member, District 2
cc:
Senator Wayne Niederhauser, President
Representative Greg Hughes, Speaker of the House of Representatives
Senator Luz Escamilla, Minority Assistant Whip
Utah State Auditor John Dougall
Select Members of Utah Legislative Education Committees
Councilman James Rodgers, Chair
Ms. Ricky McCandless, Salt Lake City Mayor's Designee
Dr. Ric Harnsberger, Horizonte Scholarship Fund
Dr. Janet Harnsberger –Horizonte Scholarship Fund
Mr. James Andersen –Horizonte Scholarship Fund
Mr. Kimball Young – Horizonte Scholarship Fund
Mr. Jordan Nak – Horizonte Student Body President
Mr. Zay Alverez – Community Activist
Horizonte School Improvement Council
Equity Leadership Team –Salt Lake City School District
---