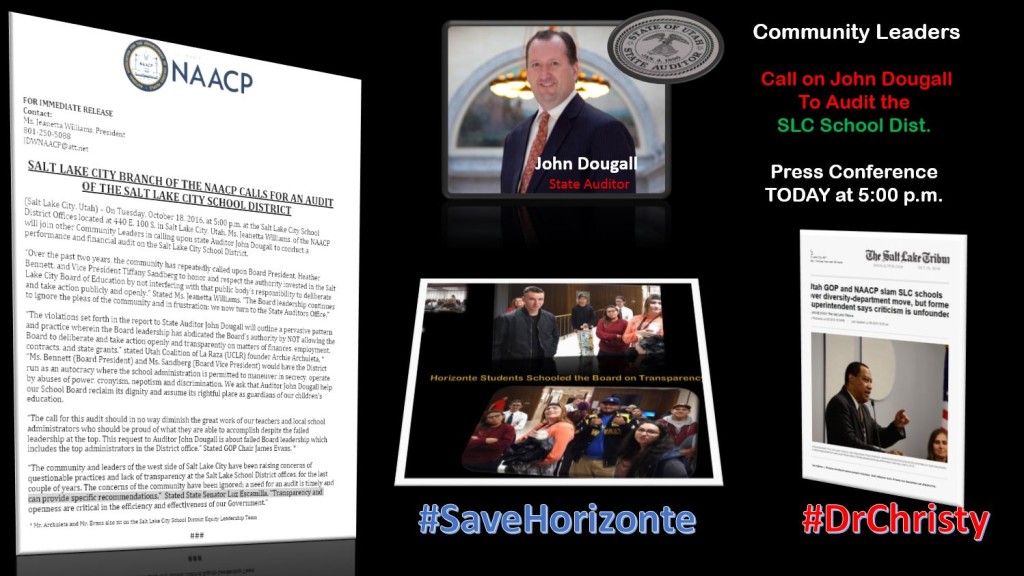 FOR IMMEDIATE RELEASE
SALT LAKE CITY BRANCH OF THE NAACP CALLS FOR AN AUDIT OF THE SALT LAKE CITY SCHOOL DISTRICT
(Salt Lake City, Utah) – On Tuesday, October 18, 2016, at 5:00 p.m. at the Salt Lake City School District Offices located at 440 E. 100 S. in Salt Lake City, Utah. Ms. Jeanetta Williams, of the NAACP will join other Community Leaders in calling upon state Auditor John Dougall to conduct a performance and financial audit on the Salt Lake City School District.
"Over the past two years, the community has repeatedly called upon Board President, Heather Bennett, and Vice President Tiffany Sandberg to honor and respect the authority invested in the Salt Lake City Board of Education by not interfering with that public body's responsibility to deliberate and take action publicly and openly." Stated Ms. Jeanetta Williams. "The Board leadership continues to ignore the pleas of the community and in frustration; we now turn to the State Auditors Office."
"The violations set forth in the report to State Auditor John Dougall will outline a pervasive pattern and practice wherein the Board leadership has abdicated the Board's authority by NOT allowing the Board to deliberate and take action openly and transparently on matters of finances, employment, contracts, and state grants." stated Utah Coalition of La Raza (UCLR) founder Archie Archuleta. * "Ms. Bennett (Board President) and Ms. Sandberg (Board Vice President) would have the District run as an autocracy where the school administration is permitted to maneuver in secrecy, operate by abuses of power, cronyism, nepotism and discrimination. We ask that Auditor John Dougall help our School Board reclaim its dignity and assume its rightful place as guardians of our children's education.
"The call for this audit should in no way diminish the great work of our teachers and local school administrators who should be proud of what they are able to accomplish despite the failed leadership at the top. This request to Auditor John Dougall is about failed Board leadership which includes the top administrators in the District office." Stated GOP Chair James Evans. *
"The community and leaders of the west side of Salt Lake City have been raising concerns of questionable practices and lack of transparency at the Salt Lake School District offices, for the last couple of years. The concerns of the community have been ignored; a need for an audit is timely and can provide specific recommendations."  Stated State Senator Luz Escamilla. "Transparency and openness are critical in the efficiency and effectiveness of our Government."
* Mr. Archuleta and Mr. Evans also sit on the Salt Lake City School District Equity Leadership Team
###
Founded in 1909, the NAACP is the nation's oldest and largest civil rights organization. 
NAACP TUESDAY PRESS RELEASE FINAL