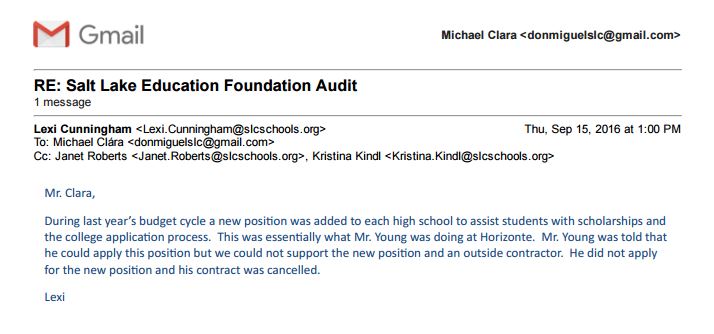 2 October 2016
DELIVERED VIA USPS PRIORITY MAIL
Office for Civil Rights, Region VIII
U.S. Department of Education Office
Cesar E. Chavez Memorial Building
1244 Speer Boulevard, Suite 310
Denver, CO 80204-3582
Re: RESOURCE INEQUITY
Complaint Against: Utah State Board of Education & Salt Lake City School District

Dear Region VIII,
Acting under the authority of my elected office, and in my official capacity as a member of the Salt Lake City Board of Education, I submit this complaint on behalf of the residents of Salt Lake City, District 2.[1]
I have reason to believe that the Utah State Board of Education (USBE) and the Salt Lake City School District (District) are in violation of Title VI of the Civil Rights Act of 1964 which states:
No person in the United States shall, on the ground of race, color, or national origin, be excluded from participation in, be denied the benefits of, or be subjected to discrimination under any program or activity receiving Federal financial assistance. [2]
This complaint will demonstrate that Superintendent Cunningham [3] and Board President Heather Bennett [4] are denying students, based on race, color and national origin, equal access and opportunity to educational programs and activities of the District. Furthermore, once placed on notice, they failed to take corrective action. More specifically, they are denying students of Horizonte Alternative High School, equal access and opportunity to the postsecondary transitional programs of the District. Horizonte High School has the highest concertation of ethnic minority students when compared to the other High Schools in the District. Consequently, Superintendent Cunningham recently implemented a practice that has a DISPARATE IMPACT on the students of Horizonte High School. This complaint will also demonstrate that similarly situated students at less diverse High Schools are treated differently which constitutes DISCRIMINATION of treatment.
BACKGROUND
During the month of September 2016, I was made aware that Business Administrator Janet Roberts terminated a contract for College Advisory Services that provided Horizonte Alternative High School with a full-time College Advisor. I sent an email to Superintendent Cunningham asking for an explanation and the following email exchange ensued:
---